Hanson
Jessica donated this autographed copy of Hanson at The Fillmore. Taylor and Zac signed the DVD and Isaac signed his picture on the insert.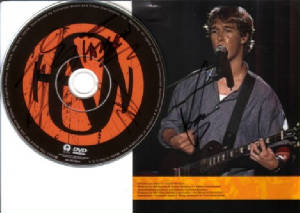 Recorded live at the Fillmore in Sanfrancisco on June 27th 2000.
1. You Never Know
2. Runaway Run
3. Thinking Of You
4. Wish That I was There
5. Sure About It
6. Love Song
7. Hand in Hand
8. If Only
9. This Time Around
10. MMMBop
11. Magic Carpet Ride
12. In The City
Bonus Material
* Exclusive live concert footage filmed during Hanson's "This Time Around" club tour
* Exclusive live photos featured in packaging
*Two bonus music videos - "This Time Around" and "If Only"
*Discography featured & web link
Running time: approx. 60 mins.
Special thanks to Jessica!!!